BIKERS LEATHER BROWN LACE JEANS (LONG LEG)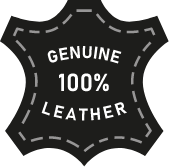 This BIKERS LEATHER BROWN LACE JEANS is a classic western jean design that has 5 pockets and comes in a standard leg length that measures 34/35 inches.
These Jeans have a raw finish leg so you can either cut or hem them to your correct leg length.
These jeans are made in soft durable Oil washed buffalo hide leather for ease of comfort and durability.
This BIKERS LEATHER BROWN LACE JEANS fits both men and women equally as well. This jean has a full leather panel on the front so there is no seam across the front of the knee.
It has a black cotton lining on the inside which comes down past the knees of these jeans. The pocket linings are made from thick cotton for durability.
It has adjustable side laces that can be pulled in or let out so that you can tighten or loosen the fitting as required.
FEATURES
Laced sides
2/3 inch movement
LEATHER CARE
DELIVERY TIME 2 TO 5 WORKING DAYS
FREE DELIVERY TO ALL UK MAINLAND ORDERS
---
NORTHERN IRELAND £10
EUROPE ZONE 1 Charges £15
Belgium | France | Germany | Ireland | Luxemborg | Monaco | Netherlands | Italy | Portugal | Spain
EUROPE ZONE 2 Charges £20
Austria | Channel Islands | Denmark | Finland | Greece | Poland | Sweden
EUROPE ZONE 3 Charges £35
Norway | Swirtzerland
---
REST OF THE WORLD Charges £55
---
REFUNDS
ALL REFUNDS ARE MADE WITHIN 14 DAYS
BIKERS BLACK LEATHER CHAPS
Next

BIKERS LEATHER BLACK WAXY LACE JEANS (LONG LEG)
Previous